Create and publish a zine, also known as a mini magazine, in time for the Zine Swap Saturday at Light Work.
It's easy to share a story aloud or quickly type and send a text message, but with a little creativity, zines can help tell a story visually.
A zine (pronounced, "zeen") is a mini magazine.
The zine scene gained popularity in the '70s with the punk, DIY movement, according to a 2010 article in the Prince George Citizen newspaper [16]. Just like magazines sold in stores, zines range in a variety of topics. However, they're self-published and self-circulated, according to Syracuse in Print, [17] a non-profit organization inspired by DIY publishing festivals.
Zines can be handmade by either cutting and pasting print products, such as books, magazines and advertisements or zines can be created with the help of a computer, according to Syracuse in Print.
Syracuse in Print will co-host a Zine Swap with Light Work [18] on Saturday from 12-4 p.m. at Light Work on the main floor of the Robert B. Menschel Media Center. Attendees will bring the zines they've made to swap them with other zine makers (or zinesters) at the event, said Syracuse in Print co-founders Jason Luther and Patrick Williams.
"The goal of Syracuse in Print is to go into communities that are already writing and show them they can also publish," Luther, 38, said. "Their stories deserve to be heard."
The Zine Swap is an informal event, Williams, 38, said. "If you're hesitant about coming, you don't have to stay for four hours," he said. "You can come and go as you please."
Creating a zine is simple; all you need is a sheet of paper and a pair of scissors. You can fold a zine in six steps.

Step 1: Take a blank sheet of paper and set it down on a flat surface portrait style, not landscape style. Make sure the corners touch evenly and fold it in half from left to right.

[19]
Step 2: Unfold the paper and create a tri-fold, landscape style. Fold the left and right panels of the tri-fold down so that they meet in the middle.

[20]
Step 3: Fold the top panel over the bottom one. When you unfold the whole sheet of paper, you should see eight rectangles.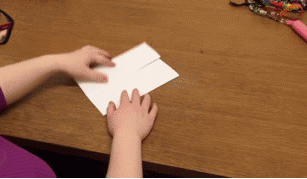 [21]
Step 4: Flip the sheet of paper over and make a small tent with the center fold.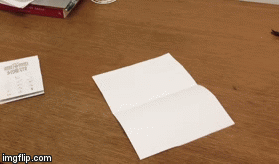 [22]
Step 5: Grab scissors and carefully snip along the vertical crease going down the side of the tent.

[23]
Step 6: Grab a tent in each hand and pick the paper up off the flat surface. Pull the tents away from each other completely so that your thumbs meet and the paper makes a letter T. Fold the papers into each other to make pages of a book. Make sure all folds are even with sharply pressed creases.

[24]
Zine-folding instructions courtesy of Syracuse in Print. [17]
GIFs created by Stephanie Jade Wong