The Syracuse run of Lookingglass Alice alley-oops, flies and tumbles triumphantly into our hearts — all with just five people on stage.
Lookingglass Alice is writer-director David Catlin [13]'s acrobatic re-imagining of Lewis Carroll's beloved Alice's Adventures in Wonderland, Through the Looking Glass and What Alice Found There, now playing at Syracuse Stage. Based more on the latter story, Catlin charts Alice's progression from pawn to queen (or metaphorically from child to woman) and in 90 minutes gives audiences a gasp-inducing, awe-inspiring visual and aural treat.
The adventure begins in a staid Victorian drawing room with Alice whiling away a lazy afternoon. Things take a turn for the surreal as she wanders across the looking glass on the mantle and sees not herself, but the image of Charles Dodgson (Lewis Carroll's real name) on the other side.
A mind-bending mirroring exercise ensues between the two actors. As palm touches palm across the mirror, all semblance of reason falls by the wayside. Crash! The full stage is revealed.
Gasp. Without our knowing it, we've slid into the rabbit hole alongside Alice.
Lookingglass Alice makes full use of all possible stage elements — sight, sound, set, lights and props — to produce a robust theatrical experience. Trapdoors abound and characters pop up where you least expect them to — from the ceiling, to the floor and even right beside you.
Daniel Ostling [14]'s stage is unassuming, but shows off its hidden merit as Alice and a host of other characters hang suspended from the specially built aluminum truss or make hysterical surprise entrances from innumerable trapdoors camouflaged on the floor.
Sylvia Hernandez-DiStasi [15]'s choreography, though creative and wondrous, is more akin to art form than merely hollow Las Vegas spectacle. Hernandez-DiStasi shows us that anything — even creating a caterpillar out of three people moving in unison — is possible.
Unlike most other shows, Lookingglass Alice requires a special kind of actor — not only a triple threat (can sing, dance, act), but dare I say a quadruple threat (can swing fearlessly from one rope to another, balance on a ball or some other physically demanding task).
Lindsey Noel Whiting's Alice is curious and lovable. She manages to avoid the annoying, cloying portrayal of youth. At certain points, we find Whiting strung up on a lyra, a suspended steel hoop that represents the rabbit hole, or a cloud swing, a set of ropes hung on the truss like a cascading necklace. Up in the air, she simultaneously acts and performs aerial tricks that leave us concerned for her safety, but also amazed at her capacity to multitask.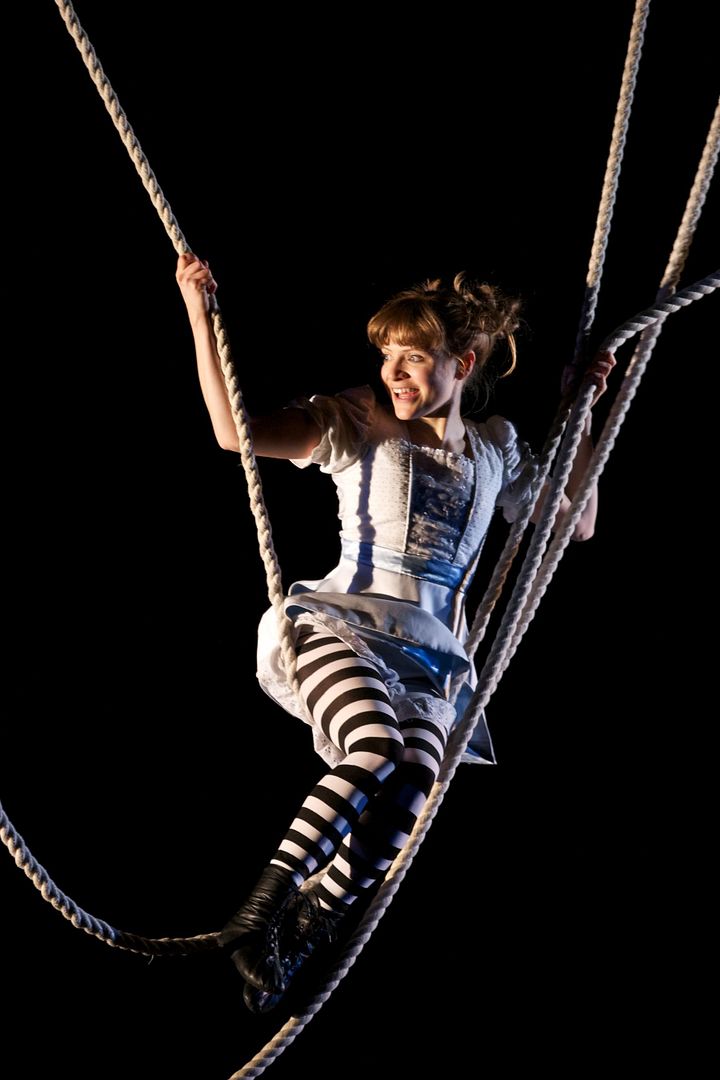 Whiting is the only cast member to retain her role throughout the show. The other four switch roles as fast a practiced magician's sleight of hand. Lightning quick costume and character changes are called for all the way through.
Lookingglass Theater ensemble member Doug Hara [16] is a seasoned veteran and it shows. With aplomb, he fills a spectrum of characters — from the calm, reassuring Charles Dodgson to a crying, grumpy baby. But he shines as the White Knight. Resounding laughter abounds as he bumbles and stumbles with his trusted steed (kid bike or unicycle). But he captures our hearts simply with an incurably positive spirit.
More Usher cool than feline lithe, Anthony Fleming III [17]'s Cheshire Cat is a refreshing change from the 1951 Alice in Wonderland Disney stereotype. His wild-eyed portrayal of a Mad Hatter tea partygoer is what takes the cake. With a tss, tss and a whsh, whsh, he becomes the maestro of a dizzying chair dance alongside two other cast members.
Molly Brennan's Red Queen teeters too much on the crazy side as she screams the classic words, "Off with her head!" Brennan makes recompense though as she becomes the lovable somnambulant mouse that sleeps anywhere — even on a surprised audience member's lap.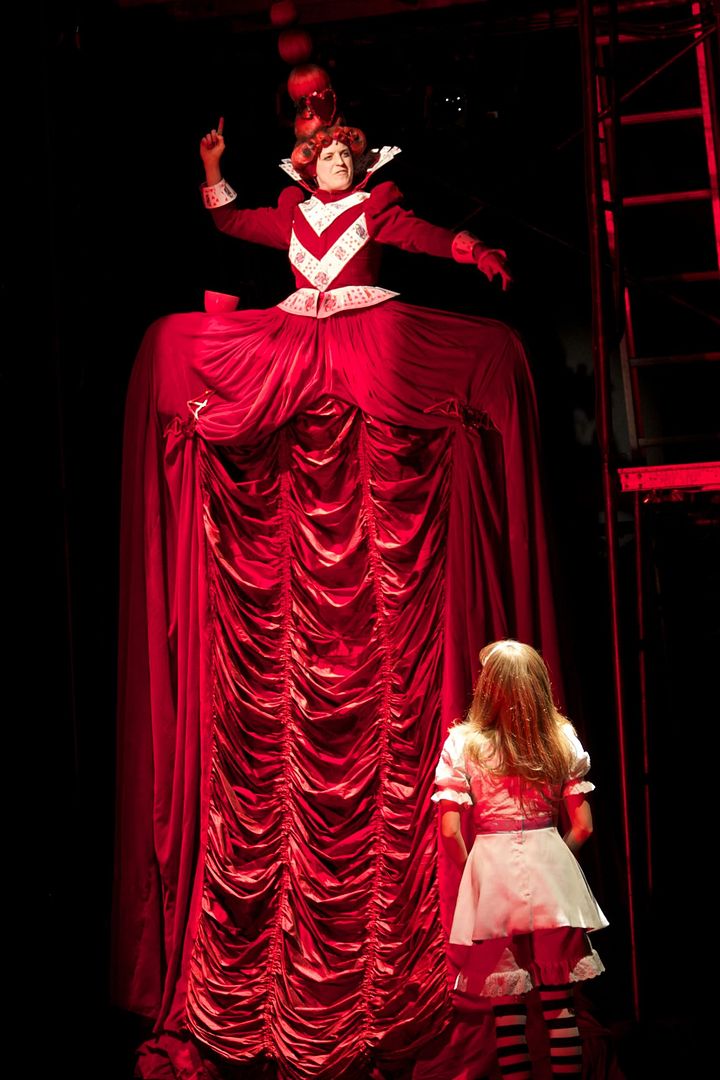 Unlike the iconic Disney version, Samuel Taylor's White Rabbit isn't as memorable. It appears and disappears too quickly to make an impression, but Taylor's Humpty Dumpty will not soon be forgotten. His death scene will make even the most stalwart of viewers squeal, "Oh my God!" Exactly like I did. How he dies, I will leave you to find out.
Despite daredevil feats, perfectly executed pratfalls and inventive choreography, Lookingglass Alice remains a moving story of a young girl growing up. Prattle becomes tidbits of wisdom, much like adult advice to the young, and Alice's throat-catching feats become metaphors for the tortuous, exhilarating journey of life we are all on. Writer-director Catlin succeeds in whisking us all away to wonderland and asks us never to leave it, even after curtain closes.
Lookingglass Alice plays March 14 at Syracuse Stage. For ticket information, check SyracuseStage.org [18].
Photography by Ken Huth