More to Jennifer than her body.
When it was announced that Academy Award-winning queen of quirk Diablo Cody would follow up Juno with the teen-horror film Jennifer's Body, the news garnered tentative excitement within the horror fan community. The teen-horror genre has been in a slump since the last Scream entry nine years ago. The deft Scream series toyed with genre conventions in a self-referential manner, while still providing a great number of scares. Saw and Hostel then started a wave of lamentable torture porn. With the satirical bite and surprising heart she brought to Juno, there was hope that Cody's take on the genre (as a woman no less) would be cause for celebration. Her completed script only skims the sardonic heights set by the Scream franchise, but Cody's female perspective adds a refreshing feminine bent to the teen-horror film.
Jennifer's Body sees Cody using that template not to elicit scares, but to explore predominantly female issues, specifically the destructive way some teenage girls deal with their insecurities and the deep ties that bond female friendships. While her approach is to the genre is provocative, it is flawed. An audience flocking to see a horror film craves just that - horror.
There is the Jennifer of the title (played with surprising relish by Transformers vixen Megan Fox), an impossibly hot cheerleader who gets any boy she wants, but remains perpetually unfulfilled in the love department. And there is her best friend Needy (Amanda Seyfried), a bespectacled sweet girl who prefers a sweater to a tank top, and is generally content with her life.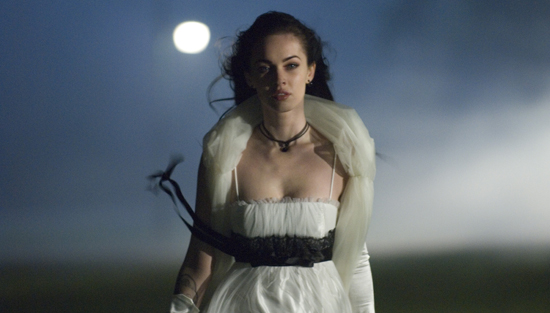 Needy, as written by Cody and portrayed by the beguiling, wide-eyed Seyfried, is not by any definition needy. By naming her so, Cody seems to be toying with the preconception Needy's peers might have of her relationship to Jennifer. How else to explain a good girl's association with the school tramp? In Needy, Cody and Seyfried have created an instantly relatable and empowering teen heroine. She dresses in a dowdy way, but is by no means unattractive. She is a top student, but maintains an active social life. She is in a sweet relationship with an unassuming boyfriend, but occasionally enjoys a good round of sex. Cody's protagonist is essentially a normal, healthy teenager - one who bears little resemblance to the virginal, put-upon heroines of the Scream and Halloween franchises.
Jennifer is a tweaked take on the promiscuous hot-girl role. Typically, this type is butchered in films of this nature. Think Sarah Michelle Gellar's beauty queen in I Know What You Did Last Summer, or Rose McGowan in Scream. But in Cody's world, the sex kitten is the killer. After being possessed by a demon of some nasty variety early in the film, Jennifer's appetite for men further intensifies. Only this time she takes it a few bases further.
That the film succeeds more as an exploration of a female friendship gone awry than a horror send-up of Heathers can be credited to director Karyn Kusama. Kusama's body of work (Girlfight, Aeon Flux, TV's the L Word) reflects her knack for tackling projects of a distinctly feminine variety, but no experience with the horror or suspense genre. Predictably, she handles the feminine territory of Jennifer's Body with confidence, showcasing the intimate nature of their friendship and eliciting strong performances from the two feisty leads who make Cody's idiosyncratic dialogue completely their own.
Jennifer's Body tries to tackle a lot for a film of its genre, and the fun is in witnessing how well some aspects work while others remain undercooked. The film isn't a Scream-like return to the heyday of the teen-horror film, but it represents a leap forward for horror films targeted towards women.