Jane Campion the Romantic
The swooning, romantic period drama Bright Star chronicles the three-year romance between revered Romantic poet John Keats and young Fanny Brawne cut short due to Keats's death at the age of 25. In telling this intimate tale of first love, the gifted director and writer Jane Campion (The Piano) has crafted a film that plays like one of Keats's poems brought to life.
Campion was inspired to tell their story upon coming across Keats's love letters to Brawne, and his short poem, Bright Star, which many scholars believe is based on their chaste love affair. For Campion, the film marks a departure from the underrated, sexually charged thriller, In the Cut, and a return to the period genre that garnered the New Zealand-born director a large following. What Campion has always displayed - whatever the period - is an intense fascination with her lead heroines, and an ability translate the raw emotion of her heroines into the viewer's psyche. This has never been more evident than in The Piano, where rather than cut away from Ada McGrath's face when her finger is brutally severed, Campion has the camera remain for an agonizingly prolonged time on McGrath's numb expression. Campion works with this same intimate approach in conveying Brawne's unrestrained passion for Keats in Bright Star.
Portrayed as a young steadfast spirit, Brawne (the exceptional Abbie Cornish) becomes acquainted with Keats (Ben Whishaw) and outspoken poet, Charles Browne, when the two rent out rooms in the Brawne family household. Through Cornish's deftly registered glances, it is clear Brawne is drawn to Keats, though she can't place why. Early in the film, Brawne asks her sister to read out one of his poems. A few words in, Brawne snatches the book away and reads aloud, enamored with the sound of the text. Though no scholar of poetry – but rather fashion - Brawne emotionally finds a deep connection to Keats's flow of language.
To further identify with Keats, she begins a series of private tutorials with him. Soon after, the two embark on a tentative romance. Keats tries to keep his feelings at bay. Brawne falls hopelessly in love.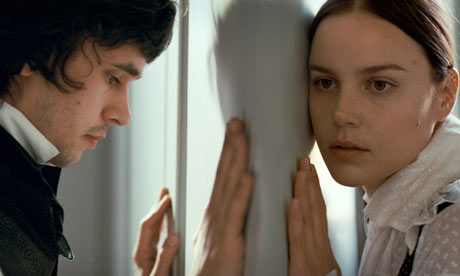 Cornish captures that wondrous and terrifying sensation by imbuing Brawne with a brash realism that feels inherently modern in an otherwise period setting. Stateside many audiences only know of Cornish through her supporting roles in Stop-Loss and Elizabeth: The Golden Age. In her first major lead role (unless you count her little seen Aussie film Candy) Cornish commands the screen. Possessing delicate features that belie her emotional range, her performance recalls a young Meryl Streep. She's that good.
In painterly compositions, Campion has the camera linger on Brawne in intensely private moments. Whether it be Brawne curling her feet in lovesick rapture, or in a final harrowing moment, howling after her dead lover, Campion does not shy away from Cornish's raw emotion. The two work in tandem to bring a sense of immediacy to everything on screen.
Cornish is matched by Whishaw, who has the uncanny ability to lift Keats' dreamy prose right off the page, as if for the first time with his wonderfully melodious voice.
While the actors lend a pervading realism to 19th century figures of history, Campion's sumptuous visuals and romantic color palette strive to emulate the delicacy of Keats's poems. Campion has always excelled at creating a distinctive visual approach. The Piano's cold color design of blues and grays reflected Ada McGrath's ominous predicament. In the Cut's underpinning of dangerous sexuality simmered in warm reds and burnt oranges. In Bright Star, Campion uses lush greens, airy blues and soft-focus to convey the light-headedness of first love.
Bright Star is surely Campion's most implicitly romantic and optimistic film to date. Despite the tragic outcome, the film revels in the fiery power of first love with unabashed glee. Campion seems to be settling into a more pensive, hopeful state with this tale. The shock effects that punctuated her past work – the finger amputation in The Piano, the explicit sex in In the Cut – never threaten to come to the surface in Bright Star.
Perhaps Keats Romantic verse got the best of her. Or maybe Campion is getting more optimistic with age. Whatever the case, Bright Star is Campion's most deeply affecting film to date and a testament to her approach as an auteur.